Baby health tips: New mom Georgia Tsialtas describes breastfeeding journey
New mom Georgia Tsialtas started hearing about breastfeeding as early as her prenatal classes in March 2018.
But it wasn't until her son Christopher was born on June 2 that she knew it was the right infant feeding option for her and her family.
"I wanted to make the decision on my own and not be influenced by others or the expectations of a new mom," says Georgia.
"Within the first half hour he was breastfeeding and I felt complete – like this is what has to happen. It was just this magical moment."
Breastfeeding or *chestfeeding support is readily available for all families who deliver in MGH's Family Birthing Centre. As a Baby-Friendly designated organization, MGH supports, protects and promotes breastfeeding and helps families make informed decisions about healthy feeding options for their infants.
Breastfeeding benefits both baby and parent:
Breast milk contains the ideal nutrition for a baby, contains antibodies and enzymes that benefit a baby's immune system and is the perfect temperature

Breastfeeding helps with bonding and attachment between parent and baby

For parents, breastfeeding reduces breast and ovarian cancer risk, helps them return to pre-baby weight and helps them recover from birth faster

Breastfed infants have fewer ear infections and colds, experience less diarrhea and are hospitalized less
"It's so important to have people around you who are knowledgeable," says Georgia, who delivered at MGH. "Education was a big part of me succeeding."
All healthcare providers in the Maternal, Newborn and Child Health (MNC) program receive ongoing breastfeeding education, including a 20-hour breastfeeding course, and have the knowledge to address infant feeding questions.
A lactation consultant is requested when families experience breastfeeding problems.
"Families don't expect breastfeeding to be difficult, but there can be a lot of challenges with it, especially at the beginning," says Sung-Ju Hong, Lactation Consultant at MGH.
One common challenge with breastfeeding is latching difficulty. The perception of not having enough milk is another challenge, because families often don't realize that babies don't need a lot of milk in the beginning. Many questions and potential issues can be addressed right away with information, education and support.
Support from a lactation consultant might include:
Assessing the latch and providing tips to help parent and baby achieve an effective latch

Teaching parents what to expect in the early days and how they can tell if the baby is getting enough

Determining how to address a perceived or real lack of milk production

Assessing if there is a medically indicated reason to  supplement the baby with extra breast milk or infant formula and supporting families through that process

Assessing if a doctor's attention is needed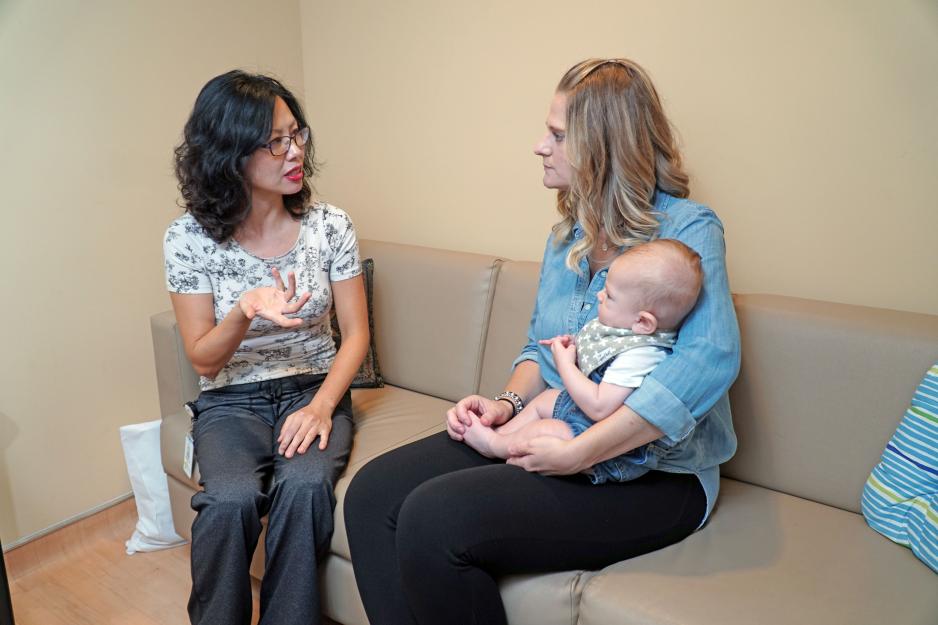 Breastfeeding is our number one infant feeding choice for all families," says Sung-Ju.
"But if families are making an informed decision after being told about the importance of breastfeeding, and decide to formula feed or are unable to breastfeed, we support them. The baby's health and what is right for each family is most important."
Healthcare providers ensure that parents make an informed choice about what feeding option is best suited for them. If a family chooses to formula feed we make sure that families have the proper knowledge and education to safely feed their child.
'I know my breast milk is doing what it's supposed to be doing'
In addition to the support offered in the Family Birthing Centre, MGH has a drop-in breastfeeding clinic available to all families. The Clinic, which is a partnership between MGH and Toronto Public Health, offers breastfeeding support through one-on-one consultation with an MGH lactation consultant, like Sung-Ju, or a Toronto Public Health nurse.
Georgia has visited the Clinic three times since taking Christopher home.
"I know my breast milk is doing what it's supposed to be doing," says Georgia. "Christopher is growing, so I know he's getting the nutrients he needs and when I was sick for two weeks he didn't show any signs of being under the weather."
Fostering a 'Baby-Friendly' culture: 'We've changed how we do things'
The Baby-Friendly Initiative (BFI) Strategy for Ontario is one area of investment by the Ministry of Health and Long-Term Care to enhance breastfeeding in Ontario. Since 2007, MGH has been one of five hospitals in Ontario, and the first in Toronto, to achieve the BFI designation.
"The Hospital has committed to providing the highest standard of breastfeeding education and infant feeding information," says Leigh Baetz-Craft, Advance Practice Nurse Clinician, MGH.
 "And we've changed the way we do things as a result."
The Designation is achieved through a rigorous evaluation process. Organizations must follow 10 steps that demonstrate they support, protect and promote breastfeeding through various practices including infant feeding support and skin-to-skin contact.
"We use the BFI steps all of the time," says Sung-Ju. "They're very important and have become part of our culture."
*Recognizing that people of all genders are able to feed their babies, MGH uses the term chestfeeding and breastfeeding interchangeably.