Design revealed for main floor of MGH's redeveloped campus
Construction activities are now underway on the first level one of the Ken and Marilyn Thomson Patient Care Centre and adjacent podium. Have you ever wondered what programs and services will be going into the new Centre? Below we explain what the community can expect to see on the ground level of the new facility when it opens in 2022.
Main CoXwell Lobby
Michael Garron Hospital's (MGH) existing Coxwell Avenue lobby is a central part of the daily experience within the hospital – it's a welcoming, active and dynamic space. The congregation of people in a modest non-institutional setting evokes a sense of belonging and displays the culture of community that is persistent throughout MGH.
As part of the hospital's redevelopment project, the existing lobby will be demolished. To maintain the essence of the main lobby, the architects designed a functional gathering space filled with natural light, waiting areas and informational hubs. The architects selected natural stone, brick and wood to mirror the original art deco design and have incorporated historic, restored items such as the hospital's corner stones which will be featured as a display in the new lobby. Adjacent to the main lobby, there will be access to flexible, multipurpose spaces including a large auditorium and resource room to accommodate community programming.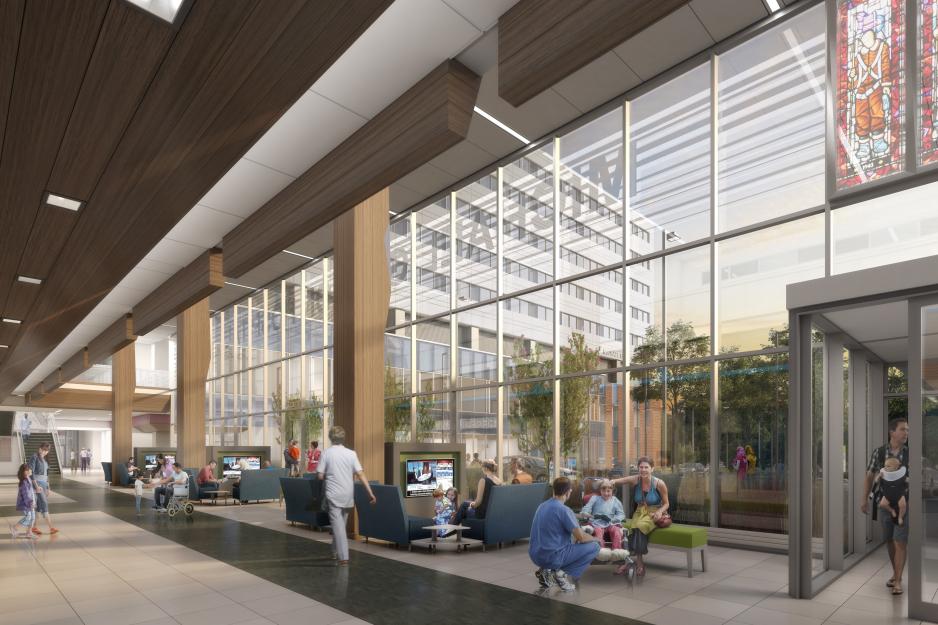 Patient Registration
All patients accessing MGH for an appointment will register in a new, centrally located registration area adjacent to the main entrance and elevators from the underground parking. Once registered, patients will be provided with clear directions how to get to their appointment and who they will be seeing. By eliminating clinic specific registration areas, patients who are scheduled for multiple appointments in a day will only have to answer registration questions once instead of at multiple checkpoints throughout their visit.
Outpatient Clinics & Waiting Area
Steps away from the new front entrance and patient registration area will be wings which contain many of MGH's outpatient clinic services (day services). Within the current campus, outpatient clinics are dispersed on many different floors in various wings. By having clinics collocated together, exam rooms will be utilized by different specialties on different days of the week and clinicians will be able to easily rotate between patients.
When designing the outpatient clinic area, it was important that MGH maximize the adaptability of spaces in order to position MGH for success well into the future. The creation of generous, simple and uncluttered spaces allows them to be easily modified and transformed to help meet the needs of the day. The rooms' layout, fixtures and fittings have also been selected to easily accommodate those using assistive mobility devices as well as provide space for family members and/or caregivers that may join a patient during their appointment. The clinic area will also have a spacious area for waiting with a variety of seating, art displays and access to natural light.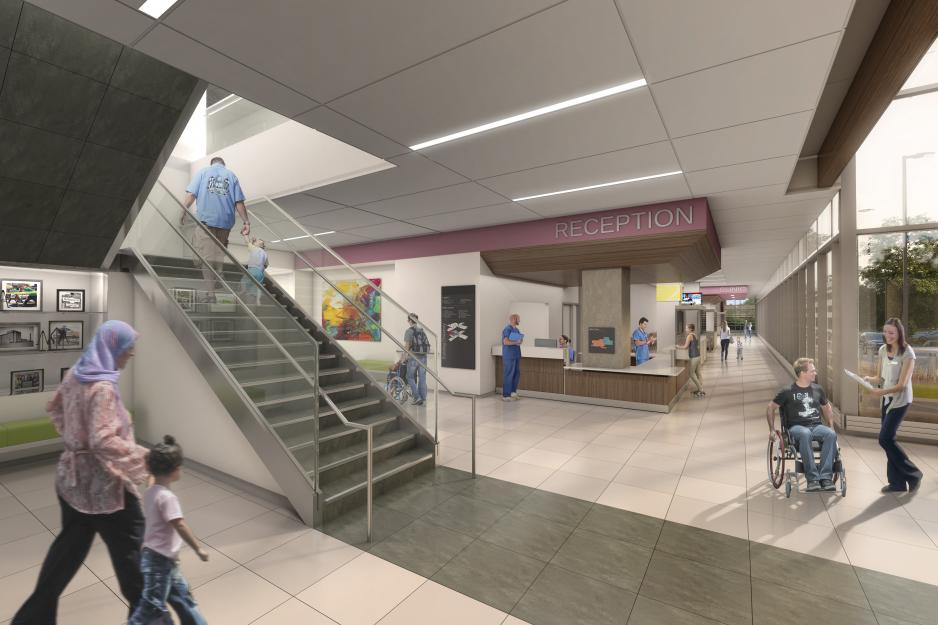 Other services on the first floor will be an outpatient Blood Collection area that is planned in a convenient location for patients to provide specimens for examination as well as an Eye Clinic for vision testing and follow up.
Ultrasound Suite
Close-by the outpatient clinic area will be a large ultrasound suite that functions as part of the Diagnostic Imaging department. Ultrasounds use high frequency sound waves which display, in real time, soft tissue structures in the human body such as in the liver and kidneys.
Central Food Court
Within the new redeveloped campus there will be several retailers to allow families to eat and shop. The new retail area will provide ample seating in flexible arrangements to accommodate various seating configurations and accessibility needs.
Patient Support Services
Patient Relations, Health Records (Release of Information) and the hospital's Cashier will all be conveniently located off the main Coxwell Avenue lobby to facilitate easy access to the public.
D-Wing
As part of the campus wide redevelopment, the hospital will be keeping the original building which opened back in 1929. The hospital's original D-wing will be restored and prominently displayed as the face of the new MGH campus. The interior of the first floor will be home to the hospital's executive and foundation teams.