Same-Sex Couple Shares Surrogacy Journey, MGH Fosters LGBTQ Inclusive Environment
"How is mom feeling today?"
"I need dad to step outside of the room for the epidural."
"After birth, you will be moved to the 'Mother and baby unit'."
While these gendered terms are used commonly throughout Ontario and Canadian hospitals, Michael Garron Hospital, Toronto East Health Network is making significant efforts to use gender diverse terms and foster an LGBTQ inclusive environment for all families.
For Asish Purushan and Krishneel Lall, a married male same-sex couple who welcomed baby Sidharth to their family on Aug. 23, these efforts have fundamentally shifted their perspective on what it means to experience parenthood in a way they could never have imagined.
Simply put, they have been empowered as key decision makers and players in a process they had expected to be mere spectators in.
A modern day love story
Asish, who immigrated to Canada from India, had been living in Toronto's Cabbage town for more than 10 years. Krishneel, born in Fiji, moved to California, United States, with his mother and sisters; a chance meeting in Toronto would bring Asish and Krishneel together in 2007.
The two connected instantly and bonded over their shared values of one day raising children. When the US introduced the same-sex marriage law in 2013, they married in California and two years later, Asish moved to the east coast to live with Krishneel and begin their surrogacy journey.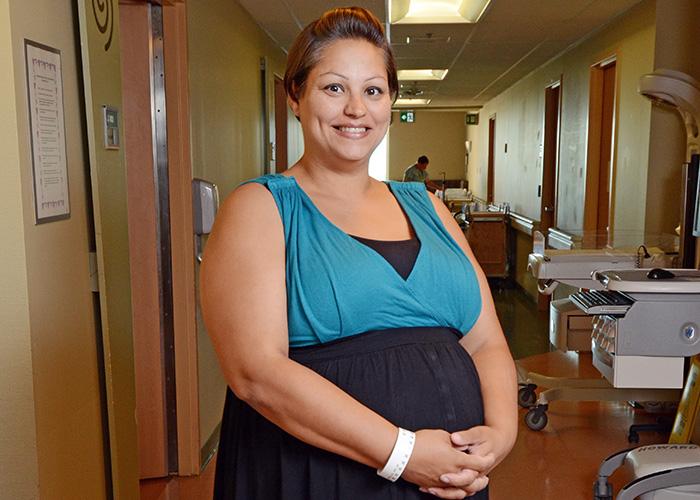 Meeting Mazyline
Surrogacy was something Mazyline McCarthy had considered for a long time – and when she met Asish and Krishneel, she knew it was the perfect match.
"I had a friend in College who was told she may not be able to have children and since then, I've always felt like this is something I needed to do for her but she was able to have a child on her own. After hearing about my dearest friend's surrogate journey, it sparked the desire of wanting to help someone start a family," says Mazyline.
"The whole process is a bit like online dating! I spoke with several couples initially, but when I met Asish and Krishneel there was an instant spark. We had similar values and knew where we wanted the journey to take us."
Mazyline, a wife and mother of three, delivered all of her children at Michael Garron Hospital and described her surrogacy experience as "coming home".
Surrogacy 101
After a two-year waiting process, Asish and Krishneel were thrilled when they matched with Mazyline in Toronto.
"We were so emotional when we found out – how do you thank someone that is giving you this gift?" says Krishneel.  "It's one thing to go through all of the paperwork, but to actually see it come to life – it brought us one step closer to our dream."
Next, it was time to find an egg donor.
After an initial setback of finding an egg donor who later determined they were not comfortable donating to a same-sex couple, Asish and Krishneel were able to secure an alternative donor.
After a successful embryo transfer procedure, which is the final step of the in vitro fertilization process, Mazyline became pregnant.
'Removing any potential barriers to accessing care'
As the baby's due date quickly approached, Dr. Brenda Woods, obstetrician and gynecologist, advised Asish, Krishneel and Mazyline to set up a meeting with the hospital's Family Birthing Centre team to prepare for the delivery of the baby.
But when it came time to meet with the hospital, Asish admits he had reservations.
"Living as a gay man and man of colour, I'm always very conscious of how I present myself and how people might perceive me," he says.
"I had heard experiences where same-sex parents were not given access to the room or child. Having a baby is a milestone that is sometimes minimized for gay couples."
Dr. Helena Frecker, obstetrician and gynecologist who specializes in LGBTQ and Gender Diverse Care, explains the importance of inclusivity during all hospital interactions and removing any potential barriers to accessing care.
"Many LGBTQ+ patients and community members have experienced discrimination and stigma within the health care system, and this can often lead to avoidance of care. This is especially true for transgender individuals," says Dr. Frecker.
"Changing the healthcare environment and implementing gender inclusive training and education for all providers is key to creating safe spaces for all of our patients and staff."
Family Birthing Centre creates inclusive setting for all families
When Asish and Mazyline met with Jennifer Bordin, Manager, Newborn & Child Health Services, they were overwhelmed by the level of support from the team and the LGBTQ+ inclusive environment. 
An informational meeting was scheduled to educate them on the hospital's surrogacy policy and they were taken on a unit tour and introduced to the interdisciplinary team. Asish was asked how he and Krishneel would like to be referred to throughout the process, and the birthing plan was discussed and developed to ensure all parties felt comfortable during and after the delivery of the baby.
"Jennifer asked us questions about the birthing plan that we hadn't even thought about because we didn't realize we would be given these choices during the process," says Asish.
"We were totally blown away. It was a beautiful experience – so kind, inclusive and thoughtful."
The Family Birthing Centre formed an LGBTQ Committee earlier this year. The Committee has participated in Toronto Pride, reached out to LGBTQ families for feedback on their care, organized hospital rounds with same-sex couples sharing their experiences, updated the pre-admission questionnaire to use inclusive language and gender-neutral pronouns, and implemented positive space signs on the unit.
MGH has partnered with The 519 since 2015 to provide inclusion training to staff – to date, 400 frontline staff have received training.