Guerkan Oenal and his wife Elif  Dilmac immigrated to Canada from Germany five years ago with just four suitcases and two guitars in-hand. Today, they feel strongly that healthcare is the most effective and privileged way to contribute to society and their new East Toronto community.
And that's exactly what they're doing.
On Sept. 14, Guerkan, Registered Practical Nurse (RPN) at Michael Garron Hospital (MGH) was recognized at the Learning Achievement Awards ceremony for completing the Practical Nursing Program at George Brown College. The ceremony is hosted by MGH's Organizational Development team.
"We left well-paid academic jobs, friends and family behind because we believe in the greatness of this society: visible in its welcoming-culture, multiculturalism, and in its tolerance where inclusion and integration play a greater role than assimilation, and where the experiences of each member are valued," says Guerkan.
"Becoming a nurse and landing a position at Michael Garron Hospital
has been a major milestone for me."
Guerkan and Elif, also an RPN at MGH, decided to become Personal Support Workers (PSW) before training as RPNs.
 "Becoming RPNs has enabled us to participate in improvements and progresses, and to stand up for people who cannot raise their voices," says Guerkan.
"My team consists of many faces, from housekeeping to management. Being a part of this team means a lot to me personally because this is my community," he adds.
This year's Learning Achievement Ceremony was particularly exciting, recognizing learners who have achieved a significant educational milestone as well as facilitators who support Organizational Development core programs such as Workplace Violence Prevention training and Emotional Intelligence. This year, 33 awards were given out.
"It was exciting to celebrate these learners and facilitators, who both contribute significantly to our hospital's strategic goal of becoming a dynamic learning organization," notes Kristina Niedra, Manager, Organizational Development at MGH.
Congratulations to all learners who were recognized at the Learning Achievement Awards ceremony!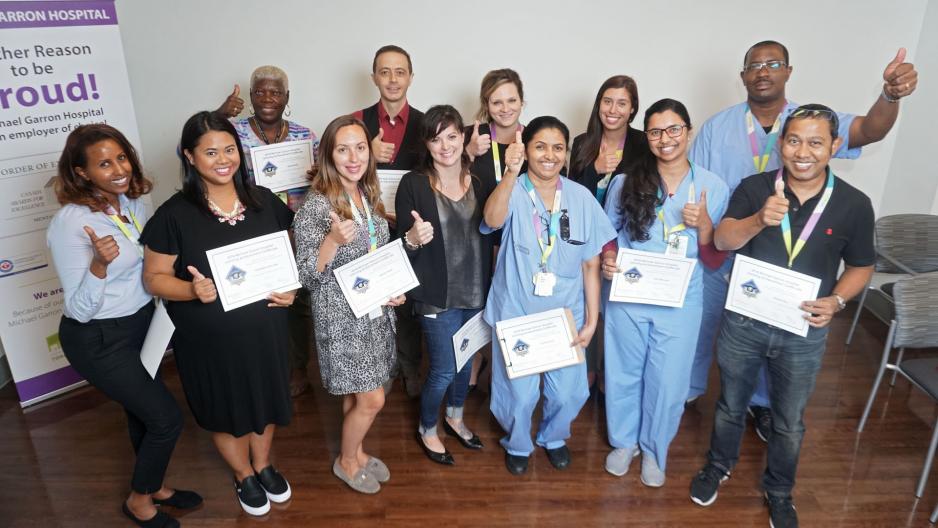 Melissa Aldham, Master of Health Studies, Athabasca University

Sehrish Artani, Master of Health Informatics, University of Toronto

Donna Bryan, Master of Science Nursing, York University

Brandon Cattan, Registered Pharmacy Technician (RPhT) from Ontario College of Pharmacy, Algonquin Careers Academy

Daisamma OJ, Certified Diabetes Educator, Canadian Diabetes Educator Certification Board

Sabrina Fazari, Master Of Social Work, University of Windsor

Amanda Filkin, Masters  Master's in Disability Management, Unversity of Northern British Columbia

Navjot Gill, Certificate  Regulated Canadian Immigration Consultant, Herzing College

Sue Gill, Certificate  from the Centre for Quality Improvement and Patient Safety (CQuIPS), University of Toronto

Masha Hadzivukovic, Master of Human Resources Management, York University

Joanne Haldoupis, Certificate  Perioperative Nursing Certification, Canadian Nurses Association

Angela Hui, Certificate in CT Imaging, Canadian Association of Medical Radiation Technologists

Rachel Isaac, Master of Social Work, University of Toronto

Harjinder Kaur, Critical Care Nursing Certificate, Durham College

Jolly Macwan, Certificate  Bridging to University for RN IEN, Centennial College

Tracey Monahan, Comprehensive Asthma and Foundational Health Education Certificate, Pear Health eLearning

Maryam Namazi, Various courses in pursuit of a Registered Nurse license in Canada, Athabasca University and Saint Xavier University

Guerkan Oenal, Other Registration with the CNO Diploma in Practical Nursing, George Brown College

Ruth Camille Pandela, Bachelors  Arts in Sociology and City Studies, University of Toronto

Justin Pontalba, Bachelors of Engineering - Biomedical Engineering, Ryerson University

Ilinca Popa, Lean Six Sigma Green Belt Certificate, GoLeanSixSigma

Mariyah Rahman, Registered Pharmacy Technician (RPhT) Certificate, Centennial College through the Ontario College of Pharmacy

Ashoke Roy, Masters  Master of Health Informatics, University of Toronto

Carolelina San Jose, Master of Science in Nursing, York University

Caryl Santos, Bachelor of Science in Nursing, Trent University

Gloria Small, Nominated for the 100 Accomplished Black Canadian Women Award,

Phoebe Smith-Chen, 1. Professional Certificate Osgoode Hall Certificate in Health Law; 2. University of Toronto School of Continuing Studies Leadership Essentials Certificate, York University and University of Toronto

Christine Sung, Practical Nursing Diploma, Seneca College

Karin Trofimova, Bachelors  of Science Nursing, Ryerson University

Roshanth Vaseeharan, Bachelor in Medical Radiation Sciences, University of Toronto

Melaine Wistuba, General Stream Certificate in Project Management, Ryerson University

Hermon Woldeabzghi, Infection Prevention and Control Practitioner Certificate, Centennial College

Tsirit Zergaw, Cardiology Nursing  Certificate, George Brown College