Affectionately known as "granny" to her family and friends, Stella Burns is a much-loved mother of 12, grandmother of 33 and great-grandmother of 40.
Her daughter and primary caregiver, Terry Burns, describes 96-year old Stella as the matriarch of her family and the east Toronto community where she has lived for 68 years.
Stella has been an inpatient at Michael Garron Hospital (MGH) many times since 2001. She was eventually diagnosed with dementia, and as both her physical and mental health declined, she was admitted to MGH with a stroke, repeated incidents of pneumonia and other health concerns.
"We knew she was failing to thrive, but none of us really understood what was happening at the time," says Terry.
The 'lightbulb moment'
A few years ago, Soledad Silencieux, a Speech Language Pathologist (SLP) at MGH was assigned to Stella's care.
Soledad is one of seven SLPs at MGH that helps to assess, diagnose and treat speech, language, social communication, cognitive-communication and swallowing disorders in children and adults.
"SLPs assess swallowing function, determine safe diet textures for each patient and implement feeding strategies to optimize safety for that individual," explains Leah Silber, another MGH SLP.
"They provide education to the patient and/or family members about dysphagia (swallowing difficulties) and the type of diet texture and/or swallowing strategies that are safe for them."
Soledad's support and interventions immediately made an impact on Stella's care.
"Soledad didn't walk on eggshells. I wanted to know the facts and she told me that a person with dementia will most often pass away because of aspiration. She explained what needed to be put in place to avoid this scenario," says Terry.
"A lightbulb went off for me. I understood how important it was that mom didn't have
aspiration issues and what I needed to do. Mom hasn't been re-admitted since."
Terry also researched and implemented other strategies to improve her mom's health, including cool air humidification in her room, probiotics and modifying the thickness of her liquids.
"If SLPs can effectively teach patients or family members to modify food textures, a patient can return home safely. This family is a great example showing that it is possible to have a swallowing disorder and remain safely in your home environment," notes Leah.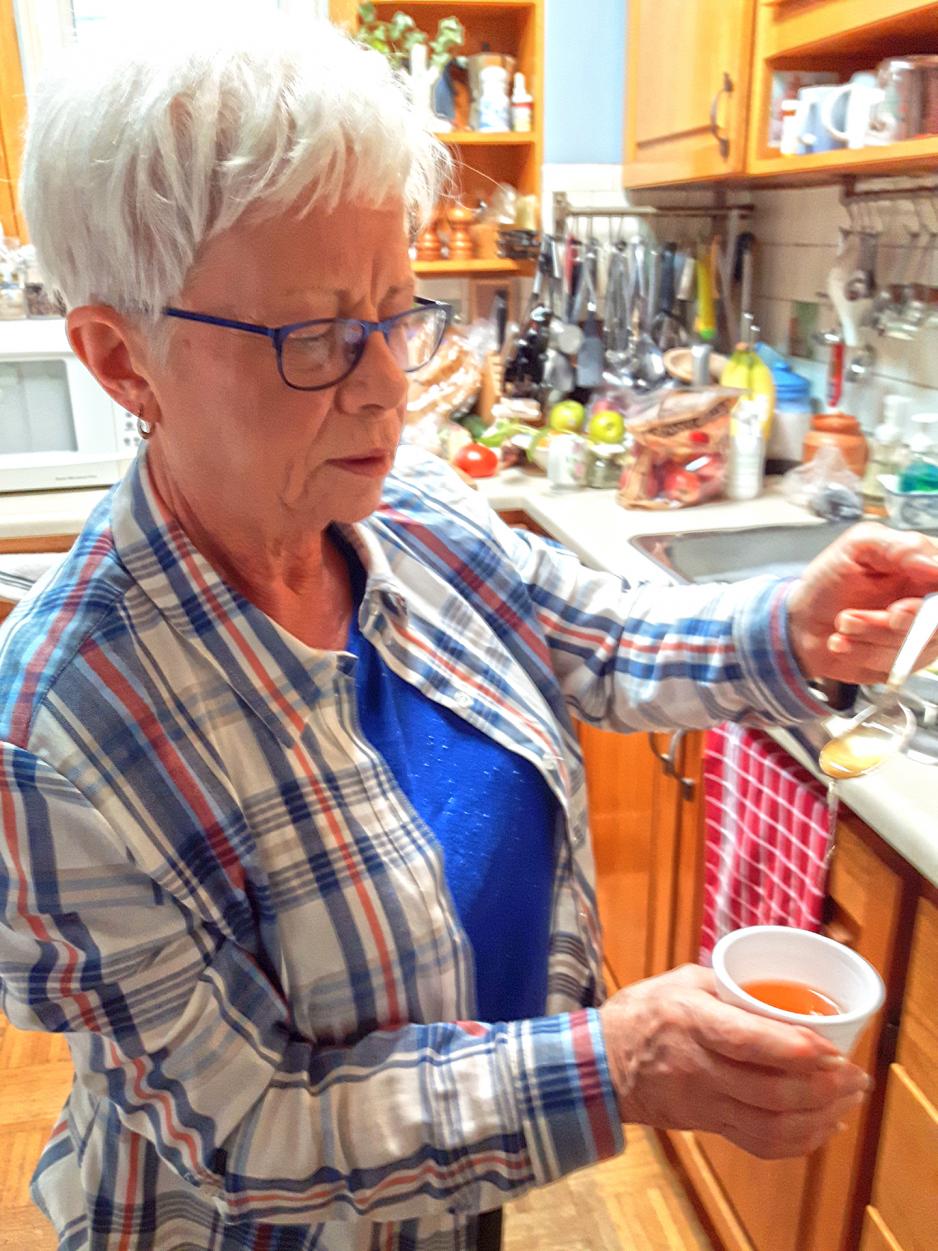 Terry was instructed to use ThickenUp®, a product that can be stirred into any beverage to make it thicker without altering the taste.
"Soledad explained to me that I would learn as I went along and she was absolutely right," says Terry. "Every day is different and I go by how she is swallowing that day. Soledad also gave me her number and told me not to hesitate to call."
With education and practice, Terry has learned how to perfect the consistency of liquids to optimize safety for her mom, in addition to implementing other measures to keep her safely at home.
She offers some straightforward advice for others in her situation.
"Ask for help and support when you need it; for example, I contacted the MGH SLPs for help a few months ago when I discovered there was a shortage of ThickenUp® at community pharmacies," says Terry.
"Voice your concerns and ask questions. You will get answers."