Harm Hutt worked as an independent contractor for many years. Whether it was a fresh coat of paint or kitchen renovation, he was a 'one man show' who took great pride in his meticulous handiwork.
"Just one look at his hands and you can tell he's been working with them his whole life," says Harm's daughter Jackie Green.
That's why when occupational therapy (OT) students working on Michael Garron Hospital's (MGH) memory care unit (MCU) had the idea to paint a mural on the unit doors they knew just the person for the job.
"Painting is so innate in him that even with his failing memory I was certain he would know what to do," says Jackie.
Harm started experiencing Alzheimer's symptoms at the age of 65. People with Alzheimer's and other forms of dementia see changes with memory, language and abilities. As the disease progresses, their understanding of the world around them is affected which can lead to confusion, paranoia and, at times, aggression.
As Harm's symptoms progressed, he was transferred from the retirement home where he lived to the MCU which could better support his increasingly complex behaviours.
"The staff were quite challenged at first, but they really took it on and have constantly adjusted to his needs," says Jackie.
Aligning personal interests with current abilities
The MCU specializes in caring for patients with varying degrees of dementia and cognitive challenges, including Alzheimer's disease. Patients and families are supported in developing personal plans to transition back to the community or most appropriate care setting.
"Dementia care is about finding things that relate to an individual's personal interest that match with the abilities that they still have," says Sangita Singh, behavioural specialist in the MCU.
In Harm's case this was painting.
As part of their commitment to quality improvement, the MCU is continually looking at environmental modifications to support best practice in dementia care. So not only would the new mural painted on the doors refresh the unit, but it would also be designed to look like a book shelf, a diversion strategy that prevents wandering patients from seeing a doorway as an exit.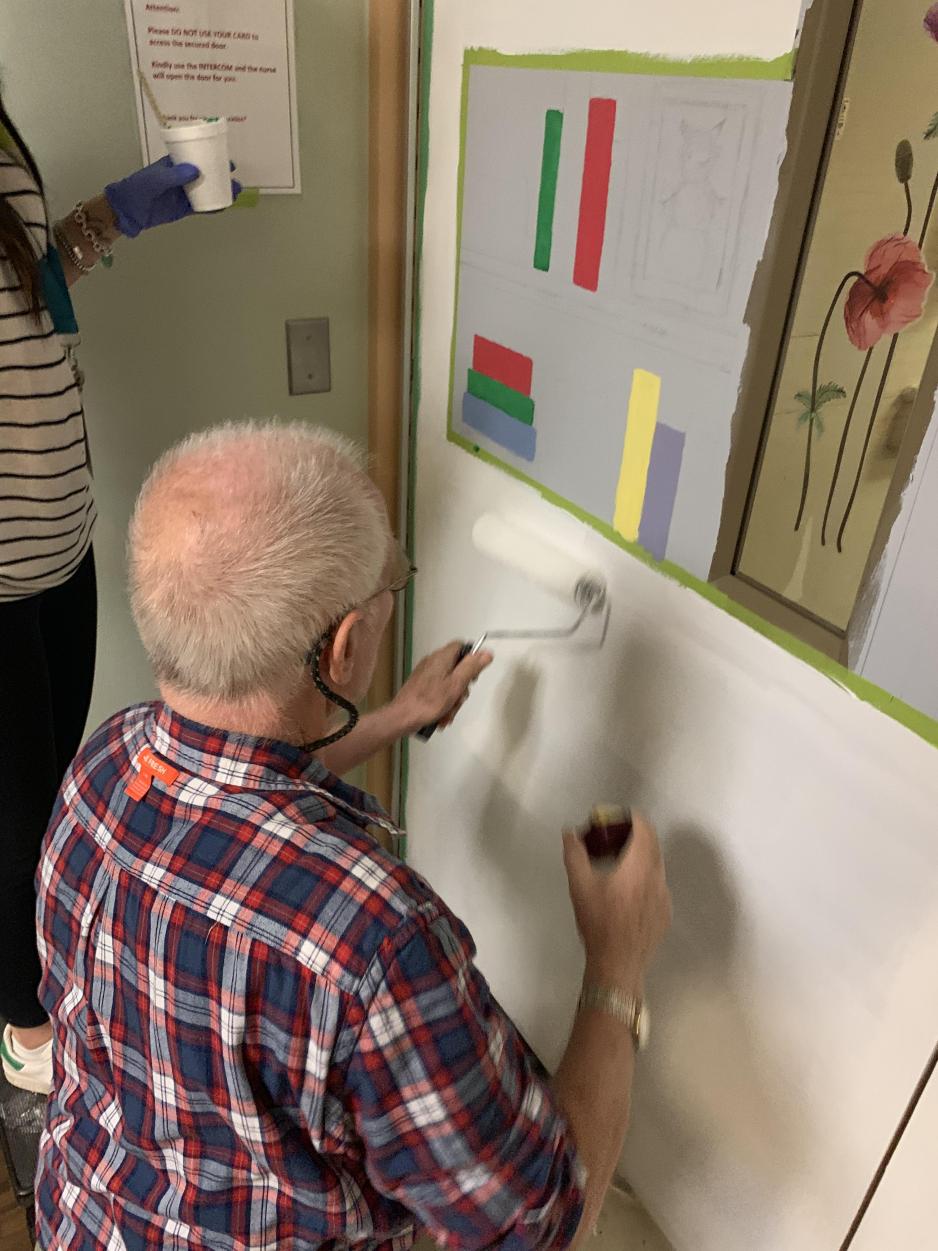 Paint roller in one hand and casually eating an apple with the other, Harm got straight to work. Like always, he trimmed the edges free handed and offered pointers to the students on their painting techniques.
"This was a great example of how they learned about my dad and discovered that painting would be a good activity for him," says Jackie.
"It was exactly what he needed."
Involving patients and families in everything we do
People-centered care is about involving patients and families in everything we do. Whether it occurs during personal care and health decisions, in program and service design or at the organization leadership and governance level, patient and family involvement is an essential aspect of providing high quality health care. The strategies used to collaborate with the people who access services are multi-pronged and adapted to context and needs.
For Jackie, she felt great joy seeing her dad get back to doing something that he loves.
"When projects come up definitely involve patients because it is just so uplifting," she says.