The following story was written in partnership with East Toronto Health Partners (ETHP), a group of more than 50 community, primary care, home care, hospital and social services organizations in East Toronto, including Michael Garron Hospital (MGH), working together to create an integrated system of care across our communities. To learn more about ETHP's work, click here.
East Toronto Health Partners (ETHP), the Ontario Health Team (OHT) serving East Toronto, has launched a vaccine influencer poster campaign to promote vaccine confidence among its members, clients and communities.
The campaign features images of individuals who have received at least one dose of the COVID-19 vaccine and asks them to complete the sentence "I chose to get my COVID-19 vaccine…" with their reason for doing so.
The poster was developed in consultation with ETHP's Vaccine Confidence Working Group, a group of leaders and staff from ETHP's member organizations, as well as local residents, who meet regularly to develop strategies for addressing vaccine-related concerns and increasing vaccine uptake in East Toronto.
The campaign responds to community feedback that demonstrates there is a desire among local residents for things to return to "normal" and that this is a driving factor behind why many individuals are choosing to be vaccinated.
"We want to inspire confidence in our colleagues, clients and community members by having their peers share why they decided to receive the COVID-19 vaccine," says Shelley Darling, director of Corporate Communications and Maternal, Newborn and Child at Michael Garron Hospital (MGH) and a member of ETHP's Vaccine Confidence Working Group.
"By reinforcing the unique and powerful motivations individuals have for receiving the vaccine, we hope people in East Toronto will be reminded of the importance of being immunized, so we can protect our friends, family, colleagues and neighbours, and go back to doing the things we love."
The poster template for the campaign was designed to be easily adapted by ETHP's member organizations. It allows members to insert their organization's logo, demonstrating their affiliation with ETHP, and to insert images and quotes from their own staff and community members.
For the campaign, Dr. Rajani Vairavanathan, an emergency physician at MGH, shared she decided to receive the COVID-19 vaccine so she could "protect my patients and family, including my colleagues who are part of my MGH family — both on and off the pitch!"
She shared two images: one of her being vaccinated at a clinic at MGH and one of her posing with her colleagues during a charity soccer tournament organized by the Michael Garron Hospital Foundation last year.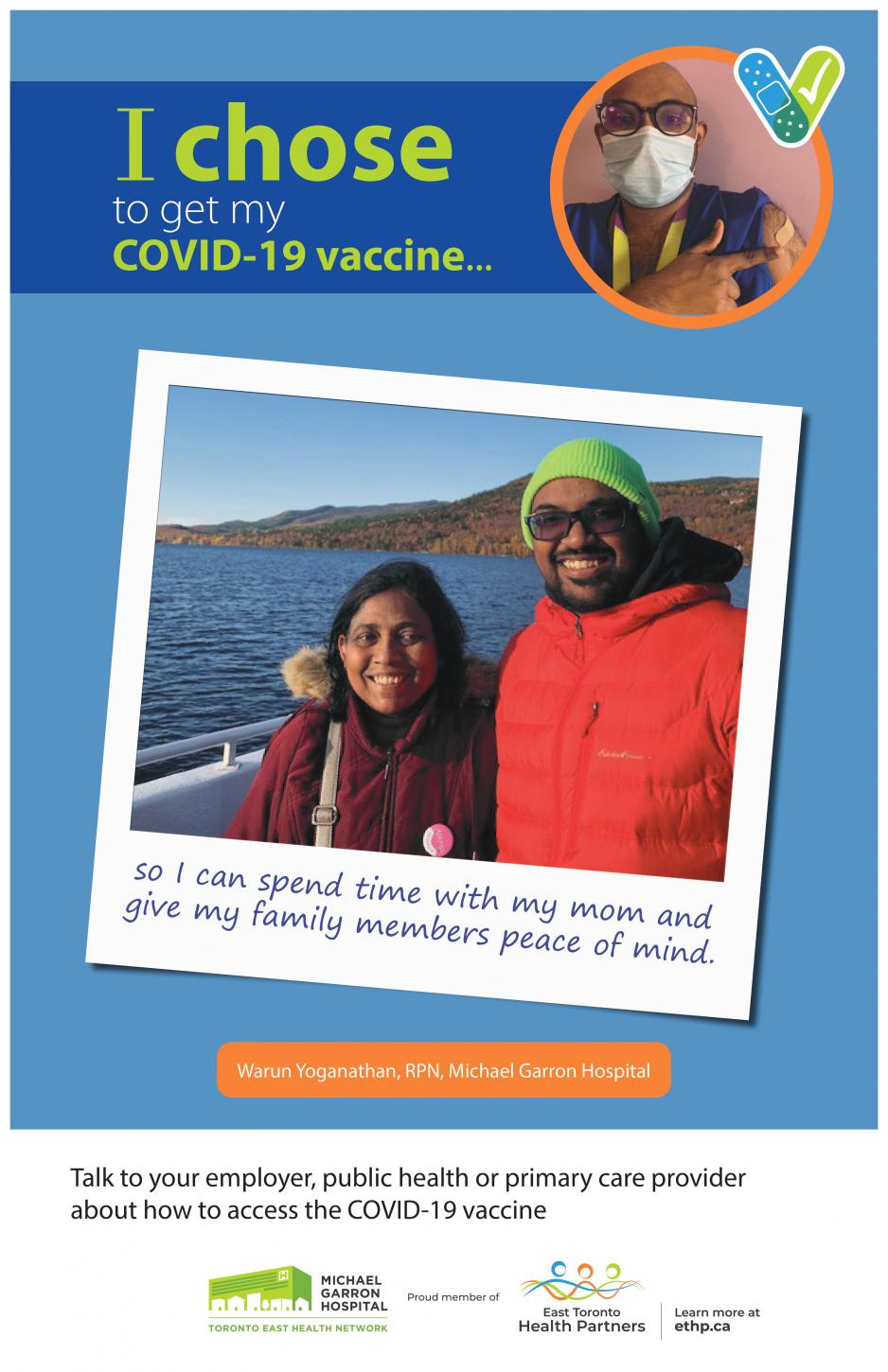 Warun Yoganathan, a registered practical nurse (RPN) in MGH's Mental Health Services unit, also participated in the campaign.
He shared that he chose to receive the COVID-19 vaccine "so I can spend time with my mom and give my family members peace of mind." He shared a photograph of himself smiling alongside his mom.
ETHP's vaccine influencer poster template is available for download on ETHP's website. ETHP member organizations are encouraged to use the template and to share the posters online and in print among their organizations and communities