Joanne Fong and her husband Jonathan Foster have lived through every parents' worst fear –  twice.
Just as the second trimester of Joanne's first pregnancy was coming to an end, the contractions started.
When it was clear the labour was happening, the neonatologist at Mount Sinai Hospital walked in the room.
"It's probably one of the scariest days the parents of a preemie can experience – when you have the talk with the doctor," says Jonathan. "They're going to tell you all the horrible things that could happen."
Their daughter Amarrah was born at 27 weeks and six days of gestation, a full trimester before her due date weighing only two pounds five ounces. She spent 71 days at Mount Sinai Hospital before being transferred to the Michael Garron Hospital (MGH) Special Care Nursery.
For the first month of her life, Amarrah's face was covered by a CPAP (continuous positive airway pressure) mask, to help her breathe as her lungs were very underdeveloped. Her arms were so tiny, Jonathan's wedding ring fit like a loose bracelet around her wrist.
When it came time for their second child to be born, something went wrong again. Joanne's blood pressure was too high, and she was diagnosed with preeclampsia. She spent one month living in the hospital waiting to go into labour.
Joanne and Jonathan's second daughter Kalea was born at 31 weeks and five days, weighing exactly three pounds. After two days at Sunnybrook Health Sciences Centre, it was Kalea's turn to move to the MGH Special Care Nursery (SCN). The SCN at MGH is a level two neonatal intensive care unit (NICU).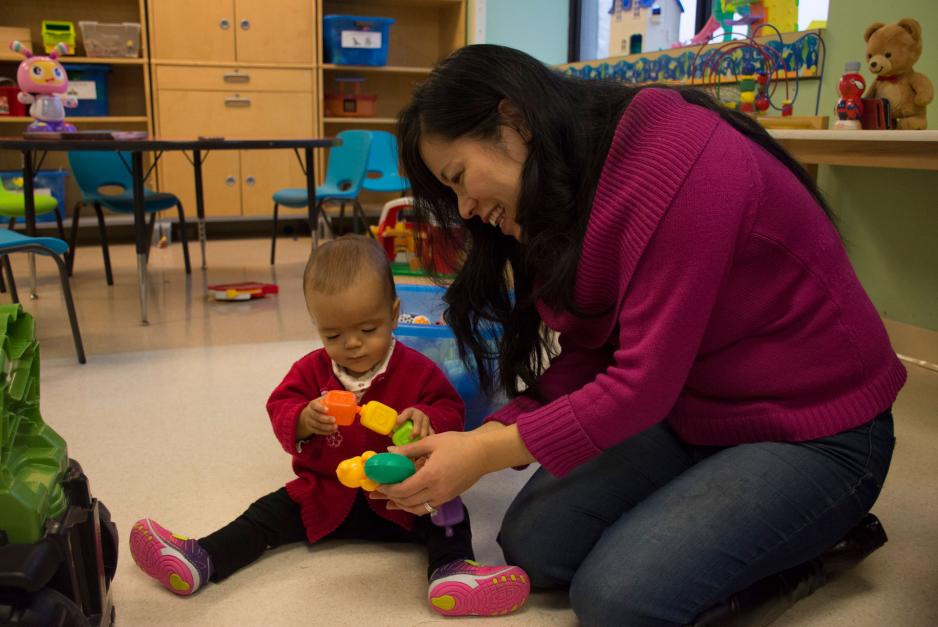 When premature babies are healthy enough, they are discharged from level three NICUs like the ones at Sunnybrook and Mount Sinai, then transferred to level two NICUs.
Kalea called the seventh floor of her parent's community hospital home for 41 days.
Different tubes and alarm devices monitoring her vital signs (heart rate, respiration and oxygen saturation) were attached to her tiny body as she grew. Her parents diligently walked the four blocks from their home every day to help care for, hold and bond with her.
Today, Amarrah is a thriving four-year-old in junior kindergarten who giggles with her parents. Kalea is a happy and thriving 16-month-old taking her first steps.
"We started to feel a real bond with MGH when Kalea was here. When you're in the hospital for such an extended period of time, you start to form a bond with a lot of the nurses," says Joanne. "Whenever we visit, it's like seeing old friends."
They're both grateful for the excellent care their daughters received from a wonderful team of dedicated and hardworking nurses, physicians and respiratory therapists.
"The best part of my job to see families reunited with their baby going home," says Tanya Levit, a clinical resource leader in the Special Care Nursery and Paediatrics at MGH.  
"These are the people who took care of the most precious people in the world to us during their most vulnerable time, so you feel this sense of gratitude and bond with them," says Joanne.
As a result of their experiences with having two premature babies in the NICU, Joanne and Jonathan were inspired to give back and support other parents who are currently walking in their shoes.
They helped establish the parent support program at MGH, mentor other parents and share the story of their daughters.
"When we talk about our experiences with parents whose babies are in the NICU and show them pictures of how far our daughters have come, I can see the fear evaporate from their faces," says Jonathan.
MGH is the regional Paediatric Centre for South East Toronto. As a part of the Child Health Network MGH cares for infants born here as well as babies who are retro-transferred from other neonatal intensive care units within the city and other areas of the province. MGH also works closely with the Hospital for Sick Children as well as Mount Sinai Hospital and Sunnybrook Health Sciences Centre.
The Special Care Nursery at Michael Garron Hospital is a family-centred and baby friendly neonatal intensive care unit. The interdisciplinary team of healthcare providers and staff offer specialized care and advanced technology to ensure the hospital's tiniest patients receive the best care possible so they can go home with their families as soon as they can.