by Isabel Terrell
Patient Experience Partner Connie Adair has been a volunteer at Michael Garron Hospital (MGH), Toronto East Health Network for over 10 years. As a member of the volunteer team in the surgical waiting room, she's supported a lot of families. On June 19 at the EPIC Research and Innovation fair, she'll be sharing a research project that puts patients at the forefront of innovation at MGH.
 Her idea is simple and straightforward- a patient privacy tent that attaches to stretchers while patients are being transported, a time when many feel most vulnerable.
 The project is being developed in partnership with Dr. Jeff Powis, director of medical research at MGH.
 "We make enormous efforts in order to protect the privacy of individuals' information when they are in the hospital, yet we wheel people out in the open through the hallways where they are visible, and their privacy is breached," said Dr. Powis, adding that visible treatments like bandages and casts can reveal why patients are visiting.
Related: Join us for MGH's annual EPIC Research and Innovation Fair on June 19! All are welcome to attend.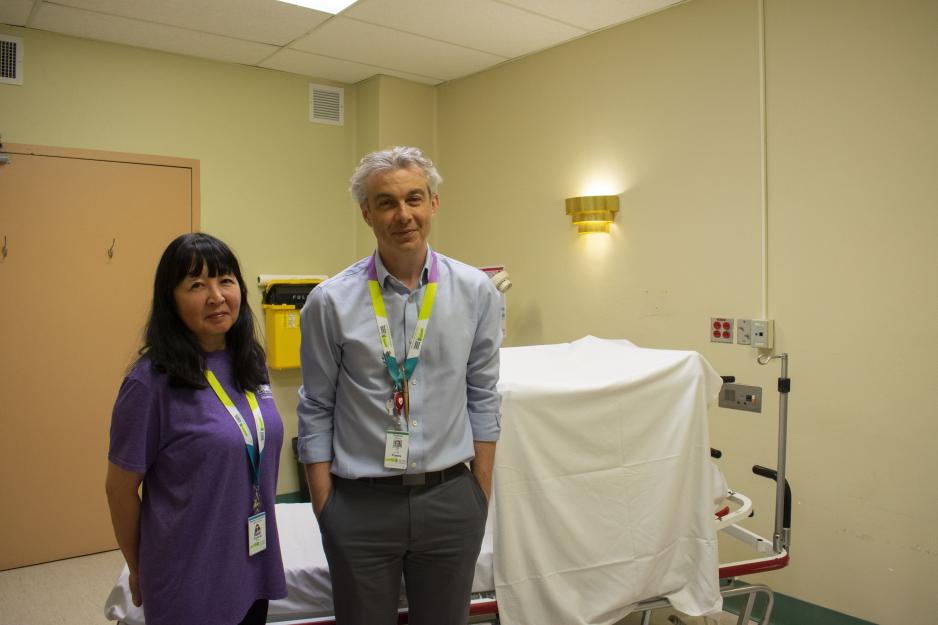 In an era of increased hallway healthcare across Canada, Connie said she's observed a lot of situations that could be improved with a privacy tent. Through her project, she aims to make MGH feel more inclusive to those with cultural or religious practices related to modesty.
Most patients aren't looking or feeling their best during their stay, she noted, and many ask to be transported around busy areas to avoid contact with the public, but alternative routes are not always possible.
 Connie has volunteered in the surgical waiting room for over a decade, and has also served on the community advisory council and later the Patient Experience Panel as a partner, where her working relationship with Dr. Powis and the infection control team grew.
 "So when I had this idea, it was natural for me to approach Dr. Powis," Connie said. He was instantly on board.
"She saw an opportunity to fill a gap that she noticed as a volunteer."
Connie's idea is reflective of a larger movement at MGH to include all voices in healthcare improvement and research.
 "This is the extreme of patient inspired innovation," said Dr. Powis. "She saw an opportunity to fill a gap that she noticed as a volunteer."
 As the medical director of research, Dr. Powis has been involved in many innovative projects, and was able to guide the research process. Key principles of the tent's design are visibility for porters while transporting stretchers, easy removal in case of emergency, a comfortable amount of space for the patient, and alignment with current infection control policies and procedures.
 In order to ensure the tent design meets the various needs of the hospital, Connie held a forum with porters, and spoke with patients, nurses, and an anesthesiologist.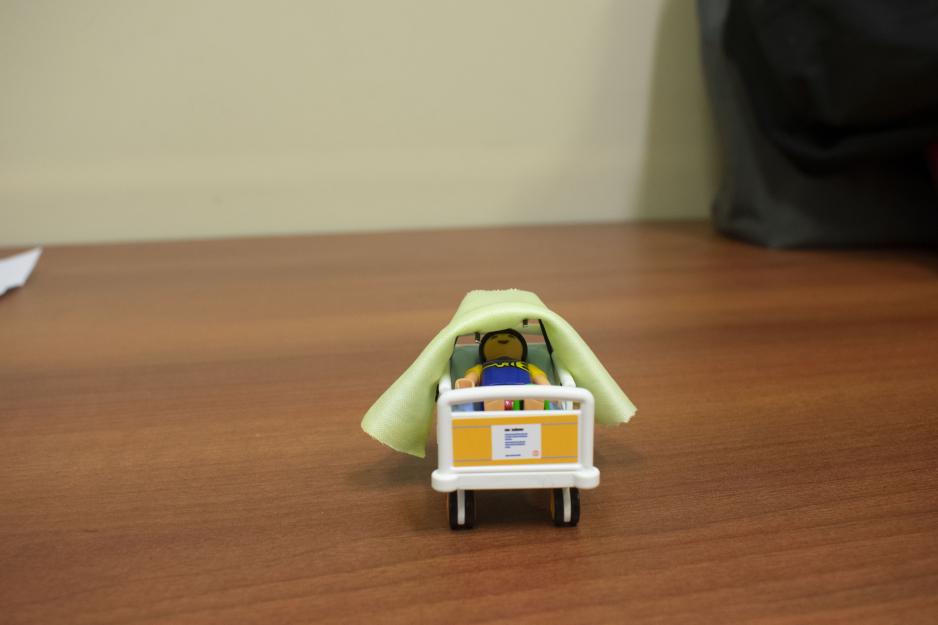 Connie and Dr. Powis will be sharing their research and first design prototype at EPIC next Wednesday. They have also been invited to pitch their idea to the Dragon's Den panel to win funds towards their next steps, a usability assessment, and a final prototype to bring to the market.
 "EPIC gives people a chance to share their ideas, and hopefully move forward with them," said Connie.
 The EPIC Research and Innovation fair will take place in G2 from 8 a.m. to 2 p.m. The day will include a research posters expo, a Dragon's Den competition, and an awards ceremony. There will also be redevelopment mock-up room tours in the J-wing, fourth floor that morning.
 "The larger vision is that this becomes not only a celebration for healthcare providers, but for our community as well," said Dr. Powis. "In order to improve the experience for people using this (healthcare) system, we need to really understand what they're feeling."
 Connie's been working on the patient privacy tent project since December 2017. This year's fair will be her first time presenting at EPIC.
 "I'll be fine as long as I can stay in the tent," she joked. "But really, I'm so excited."
Related: Eighth annual research and innovation awards showcases MGH research talent