The Ontario government confirmed this week that students across the province are returning to in-person learning on January 17. However, if you're a parent or guardian feeling conflicted about sending your kids back to the classroom amid a fifth wave of the COVID-19 pandemic – one driven by the highly transmissible Omicron variant – you're not alone.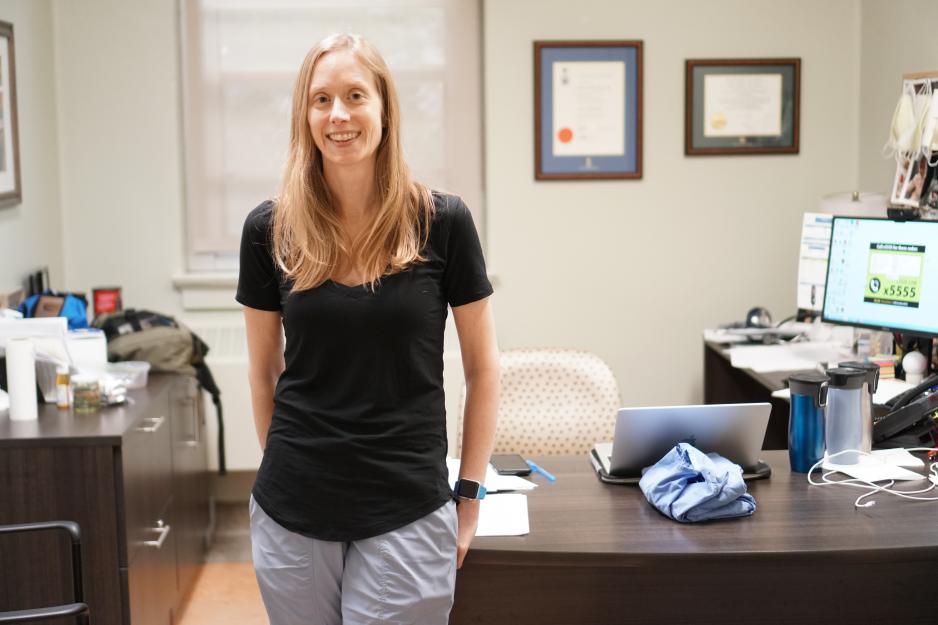 "In-person learning is vital to the health, happiness and development of our children and youth and we should be doing everything in our power to make schools as low risk as possible," says Dr. Janine McCready, Infectious Diseases Physician at Michael Garron Hospital (MGH). "However, as a mom of two school-aged children, I also understand that families have concerns and face different challenges when it comes to having their kids back in the classroom."
Below, Dr. McCready answers some commonly asked questions about children, the Omicron variant and the risk and benefits of sending kids back to school.
What is the risk of Omicron for children and youth?
Children and youth aged 5 to 17: Research and real-world data show that this age group is just as likely as adults to be infected with COVID-19. Children and youth are also capable of spreading the virus to others, which can have devastating effects. This is especially true with the Omicron variant, which data indicates is up to four times more transmissible than the Delta variant.
Although most children and youth experience mild symptoms and recover from COVID-19, some are at risk of severe illness, which may include multisystem inflammatory syndrome (MIS-C) and other complications. They may also experience post-COVID conditions or long-term effects, like fatigue, headache, insomnia, trouble concentrating, muscle and joint pain, and cough.
"Getting vaccinated helps greatly reduce the risk of severe illness and complications so, if children and youth do get COVID-19, including the Omicron variant, they are more likely to experience mild symptoms similar to a cold or flu," Dr. McCready says.
Children under 5 years of age: Research and real-world data indicate that, if healthy kids in this age group contract COVID-19, they will likely experience mild symptoms and recover, Dr. McCready says. However, with the Omicron variant, there has been an increase in hospitalizations in this population, as well as two recent deaths in Ontario.
"It is incredibly unfortunate," says Dr. McCready. "We never want to see a child pass away from an infectious disease, especially if it's preventable."
Considering children in this age group are not yet eligible to be vaccinated against COVID-19, it is especially important that individuals in their households get vaccinated and take precautions to ensure they stay as safe and healthy as possible.
Children in this age group have also been seen to spread the virus to others who may experience more serious symptoms and complications.
Is it safe for children to return to daycare or in-person learning?
Given the highly transmissible nature of Omicron, Dr. McCready says it is "very likely" that children and youth will be exposed to this variant in the coming weeks if they return to daycare or in-person learning. Children and youth may then transmit the virus to parents, guardians and other individuals in their household.
Therefore, when determining if it is safe for a child to return to daycare or classrooms, parents and guardians should conduct a household risk assessment.
Ask yourself:
Is there anyone at home who is especially vulnerable to COVID-19? For example, individuals who are elderly, immunocompromised, pregnant and/or unvaccinated.
Is my child at higher risk of severe illness or complications from COVID-19? This may be the case if your child is immunocompromised or unvaccinated.
If you answer yes to the questions above, you may want to consider temporarily enrolling your child in virtual learning, if possible. If virtual learning is not an option for your family, that is also okay.
Schools and childcare cares will be doing the best they can with the resources available to ensure a lower risk environment for children and youth. "No one should feel bad about having to send their child to daycare or school," Dr. McCready says.
Continue following public health guidelines and do everything you can, on an individual and household level, to ensure you and your family stay healthy and protected.
This includes ensuring all eligible members of your household are fully vaccinated against COVID-19. See below for more ways you can help keep your family as safe as possible.
What can families do to reduce the risk of Omicron if their children are returning to daycare or in-person learning?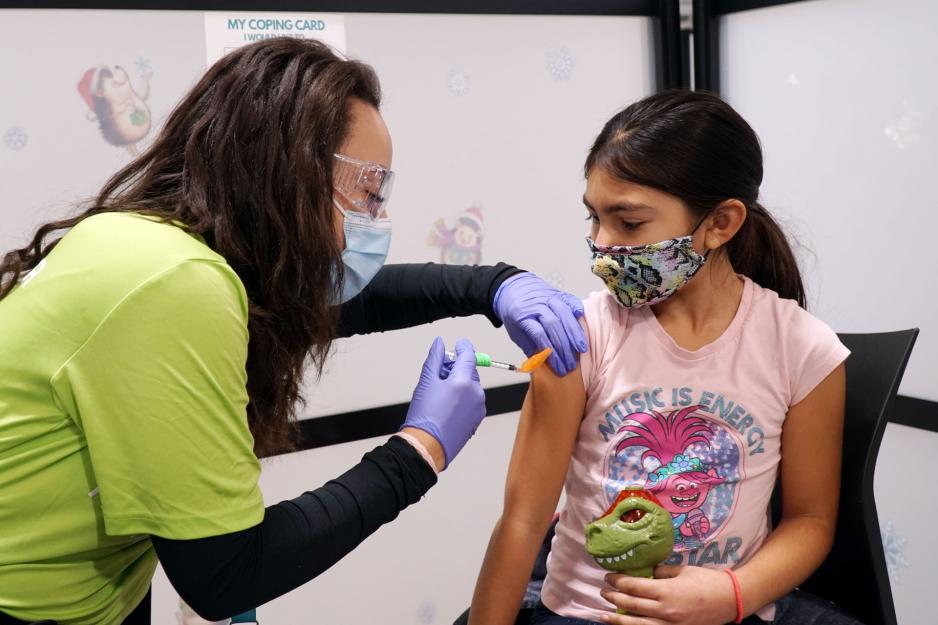 1. Ensure all eligible members of your household are fully vaccinated against COVID-19. For individuals aged 18 and older, this includes getting your third dose. This significantly reduces the risk of severe illness, hospitalization and death from COVID-19.
"If you have questions about the vaccine, please get them answered and get vaccinated as soon as possible," Dr. McCready says. "This is the best way to protect yourself, your loved ones and everyone around you."
First, second and third doses of the COVID-19 vaccine are available by appointment on the provincial booking system online or at 1-833-943-3900. You can also call the MGH COVID-19 vaccine booking office at 437-537-5131.
Children aged 5 to 11 who need their first and second dose, and individuals in priority postal codes who need their third dose, can also walk in to one of our mobile and pop-up vaccine clinics. Please read the eligibility carefully for these sites.
The optimal time between doses for children aged 5 to 11 recommended by the National Advisory Committee on Immunization (NACI) is 56 days. However, children aged 5 to 11 can get their second dose if they received their first dose more than 21 days ago. The 21-day interval is the period that was used during the vaccine's clinical trials for children. It is safe and effective and provides your child protection against COVID-19.
If you would like your child to receive their second dose after 21 days, please call the provincial booking line at 1-833-943-3900 or our MGH COVID-19 vaccine booking office at 437-537-5131. You cannot book a second dose appointment on the provincial booking system online for a child aged 5-11 using the 21-day interval.
2. Limit your outside contacts. If your child is interacting with other students and education staff in-person, other household members of that child should limit who they are seeing outside of essential activity like work. This helps minimize potential exposure to and spread of COVID-19.
"Keeping schools open should be our collective priority," says Dr. McCready. "This means adults should be limiting their own social activities, so fewer contacts are introduced to children, households and classrooms."
3. Self-isolate if you or anyone in your household has COVID-19 symptoms. If you are symptomatic and part of an eligible group, you can get a PCR test to confirm if you have COVID-19. Symptomatic students and education staff who go to a school or childcare centre in East Toronto that MGH supports will receive a take-home PCR test kit.
If you are symptomatic and not eligible for PCR testing, or if you have been exposed to a positive case of COVID-19, please follow provincial guidelines for self-monitoring and self-isolation. Guidelines are in place for fully vaccinated, partially vaccinated and unvaccinated individuals.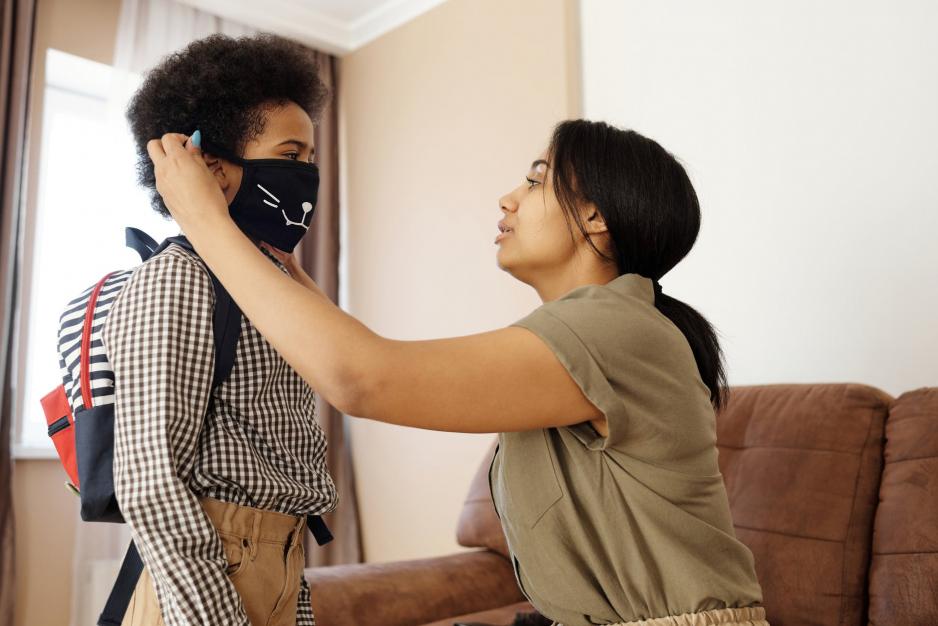 4. Continue following all the public health guidelines we know are highly effective. This includes wearing a well-fitting mask, physical distancing, avoiding crowded places and washing your hands.
"This pandemic has not been easy on anyone, especially parents," says Dr. McCready. "However, we're now equipped with the knowledge and tools needed to help reduce the spread and devastating effects of COVID-19. If we continue to follow these proven-to-be-effective guidelines, including getting both children and adults fully vaccinated, we can help schools stay open and, eventually, get to a new, safer normal."