The #MGHPayitForward series highlights the many moments of thanks within our community. Whether it is for feedback, teamwork, or a small gesture of kindness, gratitude is everywhere. We follow the flow of gratitude at Michael Garron Hospital (MGH), Toronto East Health Network as our community shares stories about their peers.
By Atifa Hamir
When Rachel Whitty, manager of the renal and oncology programs at Michael Garron Hospital (MGH), Toronto East Health Network, finished work for the day, which included four hours spent shadowing nurses in the oncology unit, she should have headed home for the evening. Instead, filled with strong feelings of pride and gratitude, she sat down at her computer to pen a heartfelt letter about the amazing things she saw that day.
"If you are one of the amazing professionals on this team, I hope you will see some of the incredible work you do reflected and acknowledged here," she wrote in the letter which would later be shared with the team, her peers and executives throughout the hospital. "And I hope you feel proud."
The letter detailed all of the incredible work Rachel observed on the unit, including:
Nurses greeting their patients' families and loved ones by name and, building personal relationships with them

Nurses exhibiting exceptional technical skills and clinical judgment, along with compassion and humour, making tasks patients may find unpleasant – such as starting IVs –easier for them

Staff offering each other emotional support during difficult times when providing care or offering difficult diagnoses to patients

Staff going out of their way to follow up with patients who had left the hospital to see how they were doing and if they required further supports at home

Staff in many different roles including physicians, pharmacists, unit clerks, ward aides, social workers and spiritual care practitioners coming together to care for patients as a whole team
Rachel noted how moving it was to see the extraordinary levels of passion, compassion and commitment staff demonstrated while working in such a difficult area of healthcare. This, along with the many other positive things, made her realize how important it was to formally recognize the team.
"It's easy to get lost in the day-to-day tasks that need to get done, or to focus on the things that we need to improve on and change," said Rachel. "But I think it's just as important- if not more- to recognize people for things done well. What we're doing here every day – it really matters, and it's not easy. Expressing gratitude makes a difference."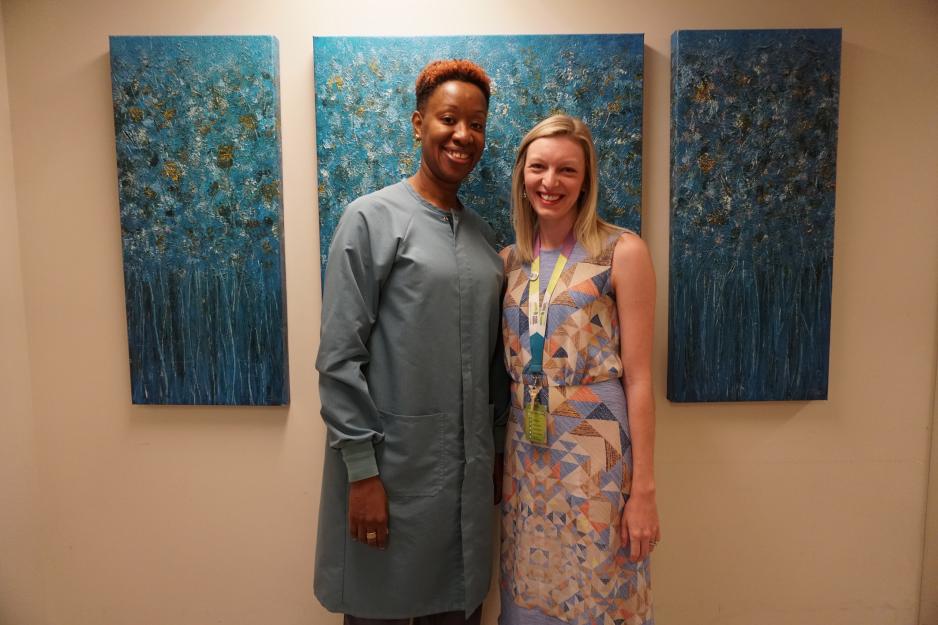 For Amanda Beazer, a nurse on the oncology team who Rachel shadowed that day, reading the letter reminded her why she loves what she does.
"Rachel's letter highlighted the compassion and dedication that each member of the team brings on a daily basis. It made me feel appreciated."
For Rachel, the entire experience – from observation to gratitude to recognition – is a reminder of why she decided to join Michael Garron Hospital.
"One of the reasons I came to work at this hospital is because I believe in our values: compassion, integrity, courage and accountability. Observing you today felt like a master class in living these values."
Do you have an MGH gratitude story to share? Contact @email or share your story using the hashtag #MGHPayitForward and tag @MGHToronto.