When Trevor Finney describes his role in Spiritual Care at Michael Garron Hospital (MGH), he paints a strikingly different picture than the Christian faith based model employed 50 years ago.
Today, Trevor spearheads efforts to bring inter-faith and inter-cultural services to the Hospital to support the diversity of cultural, religious and spiritual care needs of the MGH community. This month, the Hospital will welcome its first Muslim Chaplain, who is fluent in Arabic. Spiritual care is one of many service areas the Hospital is evolving to create more inclusive environments for the East Toronto community.
MGH – home to one of Canada's most diverse communities
On June 3, the Canadian College of Health Leaders will honour Michael Garron Hospital as the recipient of the 2018 Excellence in Diversity and Inclusion Award. The Award honours a forward-thinking Canadian healthcare organization that has demonstrated leadership in creating and promoting diversity and inclusion to improve the environment of its employees, patients and community.
As the only acute care hospital located between the City of Toronto and Scarborough, MGH serves one of Canada's most diverse communities with 22 distinct neighbourhoods, more than 50 languages spoken and close to 40 per cent new Canadians.
"Understanding and responding to the emerging needs of our patient population is the cornerstone of service planning at MGH," says Wolf Klassen, Vice President, Programs. "We're committed to collaborating with our community to listen and support both healthcare users and providers."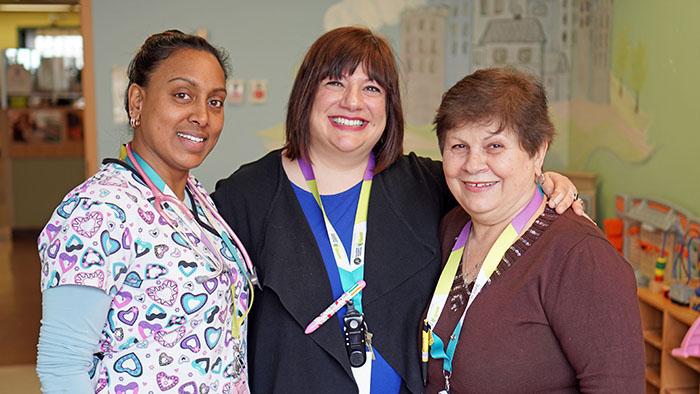 A healthy community is a strong community – and it's our job to help build it
Partnerships undertaken at the Hospital have helped to create inclusive environments, identify and remove barriers to access care for newcomer groups, and ensure equity and access for all. Examples of ongoing programs include seminars to create an inclusive and supportive environment for the LGBTQ community in partnership with The 519; Indigenous health awareness training for leaders and staff in consultation with Elder Little Brown Bear, who leads MGH's Aboriginal Healing Program; and a focus on mental health training, workshops and support to align with the Hospital's Mental Wellness Strategic Plan.
MGH's Patient Rights & Responsibilities has been updated to include gender affirming language to ensure patients are free from discrimination based on their gender identity and gender expression. For patients who identify as Trans or gender non-binary, an administrative practice to honour a patient's chosen name over the name on a health card has been adopted in the registration process.
The Family Birthing Centre (FBC) has worked with patients who are members of the LGBTQ community to create a positive birthing experience for all, regardless of gender identity, expression or sexual orientation. This work has been a point of passion for Jennifer Bordin, Manager, Maternal, Newborn and Child Health Services, MGH, who is an active member of the LGBTQ Committee alongside midwives, nurses, educators and obstetricians. The Committee has participated in Toronto Pride, reached out to LGBTQ families for feedback on their care, updated the pre-admission questionnaire to use inclusive language and gender-neutral pronouns, and implemented positive space signs on the unit.
Now, Jennifer and the Family Birthing Centre team are focusing efforts on Indigenous health and training to provide families with a culturally safe and supportive environment. Indigenous communities across Canada follow a variety of different birthing customs, for instance, smudging – a ceremony that involves burning a small bundle of traditional medicine such as sage.
"We want every parent to feel safe and welcome when they walk through our doors," says Jennifer. "We still have a lot of work to do, but it's our job to create inclusive environments where our teams have the training and knowledge to support families in carrying out ceremonies, rituals and customs to celebrate birth."
Giving East Toronto the healthcare facility it deserves
The Hospital's campus renewal, which begins this spring by breaking ground on the new Patient Care Centre, will see the addition of a new inter-faith sanctuary to offer an inclusive space of reflection, contemplation and meditation for everyone – something Trevor is very excited about.
"The inter-faith sanctuary will be a place where anyone – regardless of their religious background or faith, will connect with something transcendent," says Trevor. "At the core of our practice, we try to understand another person's humanity to deliver care that is dignified and respectful."
In addition to the inter-faith sanctuary, the revitalized Hospital campus will include an HVAC system to allow for Indigenous smudging ceremonies, an intuitive wayfinding system that incorporates universal signs and landmarks for easier understanding by non-English readers and gender inclusive symbols and language on all public washrooms.