Michael Garron Hospital administers over 2,500 COVID-19 vaccines to residents of 22 long-term care and retirement homes in four days
(Jan. 6, 2021) Toronto: Today Michael Garron Hospital (MGH) marks a significant milestone in the fight against COVID-19 by completing vaccinations for all eligible residents of the 22 long-term care (LTC) and priority retirement homes the hospital supports in East Toronto. By end of day today, Jan. 6, 2021, MGH will have administered over 2,500 COVID-19 vaccines to LTC and retirement home residents in four days.
In an effort to rapidly scale up the COVID-19 immunization of residents, staff and essential caregivers of LTC and retirement homes, MGH worked in partnership with Toronto Public Health (TPH), the University Health Network (UHN) and East Toronto Family Practice Network (EasT-FPN) to administer Moderna vaccines to the following LTC and retirement homes in East Toronto:
The Heritage Nursing Home

Harmony Hills Care Community

The Wexford Residence

Nisbet Lodge

Midland Gardens Care Community

Ina Grafton Gage Home

Main Street Terrace

True Davidson Acres

Presentation Manor

Beach Arms Retirement Residence

Atrium at Kew Beach

Rockcliffe Care Community

Scarborough Retirement Residence

Revera Leaside Retirement Residence

Craiglee Nursing Home

St. Clair O'Connor Community

Retirement Suites by the Lake

Chartwell Avondale Retirement Residence

Rayoak Place Retirement Residence

Chester Village

Donway Place Retirement Residence

Fountain View Care Community
In addition, MGH has vaccinated 1,530 LTC staff and essential caregivers at their on-site hospital vaccination clinic which has been operating since Dec. 22, 2020.
"This is a remarkable example of what we can do when we galvanize our teams across the health care system to create a community-based response to COVID-19," said Sarah Downey, president and CEO, MGH. "Every single eligible resident from the 22 long-term care and retirement homes who wanted a vaccine got their first dose – now we need to use this momentum to expand our COVID-19 Vaccination Program to additional priority populations."
The Ontario Government announced yesterday that all residents, health care workers and essential caregivers at LTC homes in the priority regions of Toronto, Peel, York and Windsor-Essex will receive a COVID-19 vaccination by Jan. 21, 2021. This is an encouraging step forward to ensure that vulnerable seniors and the health care workers who care for them are provided with extra protection against COVID-19 as soon as possible.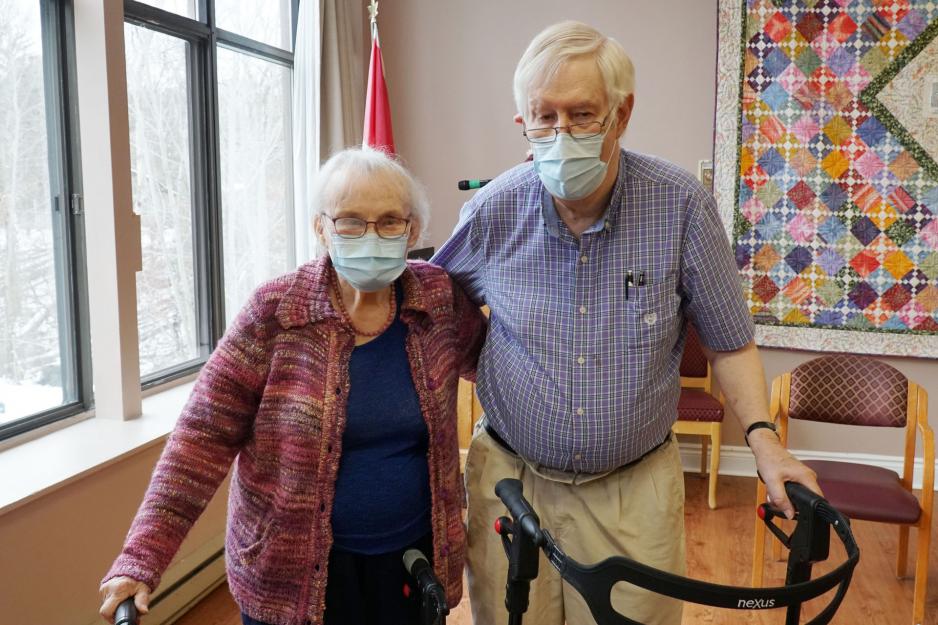 For John Coburn and his wife, Beverley, residents at St. Clair O'Connor Community (SCOC), one of the 22 LTC and retirement homes in East Toronto that MGH supports, receiving the first dose of the Moderna COVID-19 vaccine today offers comfort and safety and is the first step toward regaining a sense of normalcy in their everyday lives.
"This vaccine means a great deal," said John, who has been a resident at SCOC since 2015. "It's been a stressful year for both our residents and health care workers. Now I'll be able to protect myself and the people around me, which I'm all in favour of."
John and Beverley said they're excited about eventually getting back to their regular routines, which include weekly church functions, seeing their children and grandchildren, and travelling. "We've missed birthdays, wedding anniversaries and holidays with our family and friends," Beverley said. "So we're really looking forward to seeing them again and catching up."
The pair said they feel lucky to be receiving the vaccine and are grateful for the support from MGH. "We weren't expecting to receive the vaccine this quickly," Beverley said. "I think the link between St. Clair O'Connor and Michael Garron Hospital has been very beneficial."
For Dr. Jeff Powis, Medical Director, Infection Prevention and Control at MGH, completing this COVID-19 vaccination milestone at SCOC was especially meaningful given it's the very place that MGH's LTC outreach began at the onset of the pandemic last spring.
Dr. Powis credits pre-existing relationships with LTC and retirement homes, early and rigorous planning and exceptional health care teams for the successful COVID-19 vaccination efforts in East Toronto.
Before the Pfizer COVID-19 vaccine was even approved in Canada, Dr. Powis and his team worked with LTC and retirement homes in East Toronto to tackle the logistics of providing vaccinations to residents. By the time the Moderna COVID-19 vaccine was approved in Canada and available for distribution, the MGH teams and homes already mobilized an outreach team, consented residents and had a schedule to start vaccinating immediately. Approximately 14 local family physicians and emergency department physicians, 16 nurses and two infection prevention and control specialists administered COVID-19 vaccines to residents.
"We've spent the past nine months fighting this disease together with our long-term care partners. We all know each other by name; we've built these strong relationships. So when it came time to vaccinate residents, the first thing they said is 'how can we help?'" said Dr. Powis. "In the midst of rising COVID-19 rates and record-breaking numbers of outbreaks in LTC and retirement homes, our best strategy is to get this vaccine in as many people's arms as possible, and as fast as we can. Every day we wait is another day a vulnerable resident is at risk."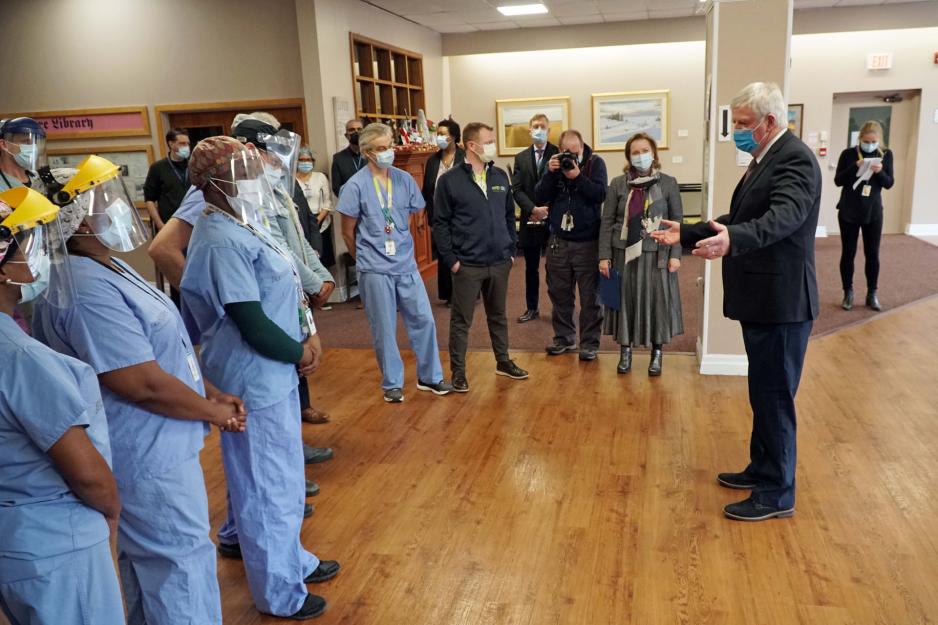 General Rick Hillier, chair of the Ministers' COVID-19 Vaccine Distribution Task Force, was on-site at SCOC when MGH administered vaccines to eligible residents today. He thanked the nurses, doctors and support staff who have made this incredible accomplishment possible. "This is the defining moment of our generation and your role in it is something we will always remember," he said.
With the use of the Moderna vaccine and the hope that authorization will come soon for the movement of the Pfizer vaccine from MGH to other sites, Dr. Powis and Downey are hopeful that MGH can begin broader planning and dissemination of the COVID-19 vaccine to other priority populations in East Toronto in collaboration with Toronto Public Health and the East Toronto Health Partners (ETHP) Ontario Health Team.
"We look forward to the day where we can provide all health care workers and our entire East Toronto community with access to the COVID-19 vaccine," said Downey.
---
About Michael Garron Hospital
Nestled in the heart of East Toronto, Michael Garron Hospital (MGH) is a vibrant community teaching hospital serving more than 400,000 people in 21 distinct neighbourhoods. For more than 90 years, MGH has delivered high-quality, patient-centred healthcare services to families along the continuum of care, from welcoming a new life to facing end-of-life. MGH is a leading full-service hospital with strong community and research partners, including the University of Toronto. MGH is an anchor partner of East Toronto Health Partners, the designated Ontario Health Team for East Toronto.   
For media inquiries, email @email. For media inquiries related to Ontario's COVID-19 Vaccination Program, please contact @email. 
Please note: COVID-19 vaccines are not available to the general public at this time, as per Phase One of the Ontario Government's Vaccination Implementation Plan.