When Michelle Methven and her partner Aimee Bruner were preparing to have their second child Sam, they knew they wouldn't need to choose between the care of a midwife and giving birth at a hospital.
Since 2002, the Midwives Clinic of East York-Don Mills and Michael Garron Hospital have been in a partnership to give expectant parents in the East York area the best of both worlds plus excellent continuity of care. The partnership has supported the growing number of births in the area.
"We wanted the expertise of a midwife and the benefit of what they have to offer in regards to informed choice and pre/post-natal care, as well as having the availability of additional medical professionals such as an anesthesiologist and obstetrician if needed," says Michelle.
Since the partnership started, the Midwives Clinic have held privileges at MGH.  Midwives are credentialed clinicians and members of the Medical Staff association at MGH.  When a patient of the Midwives Clinic chooses to have a hospital birth, they can have the one-on-one care of a midwife that includes care throughout the pregnancy, labour and birth, home visits, 24/7 on-call care, and access to everything that comes with a hospital birth including the support of additional hospital clinicians, if required.
For Michelle and Aimee, the partnership helped their family through a difficult time in 2011. While they were preparing for the birth of their son Sam, they found out their two-year-old daughter Stella had a fatal cancerous brain tumour.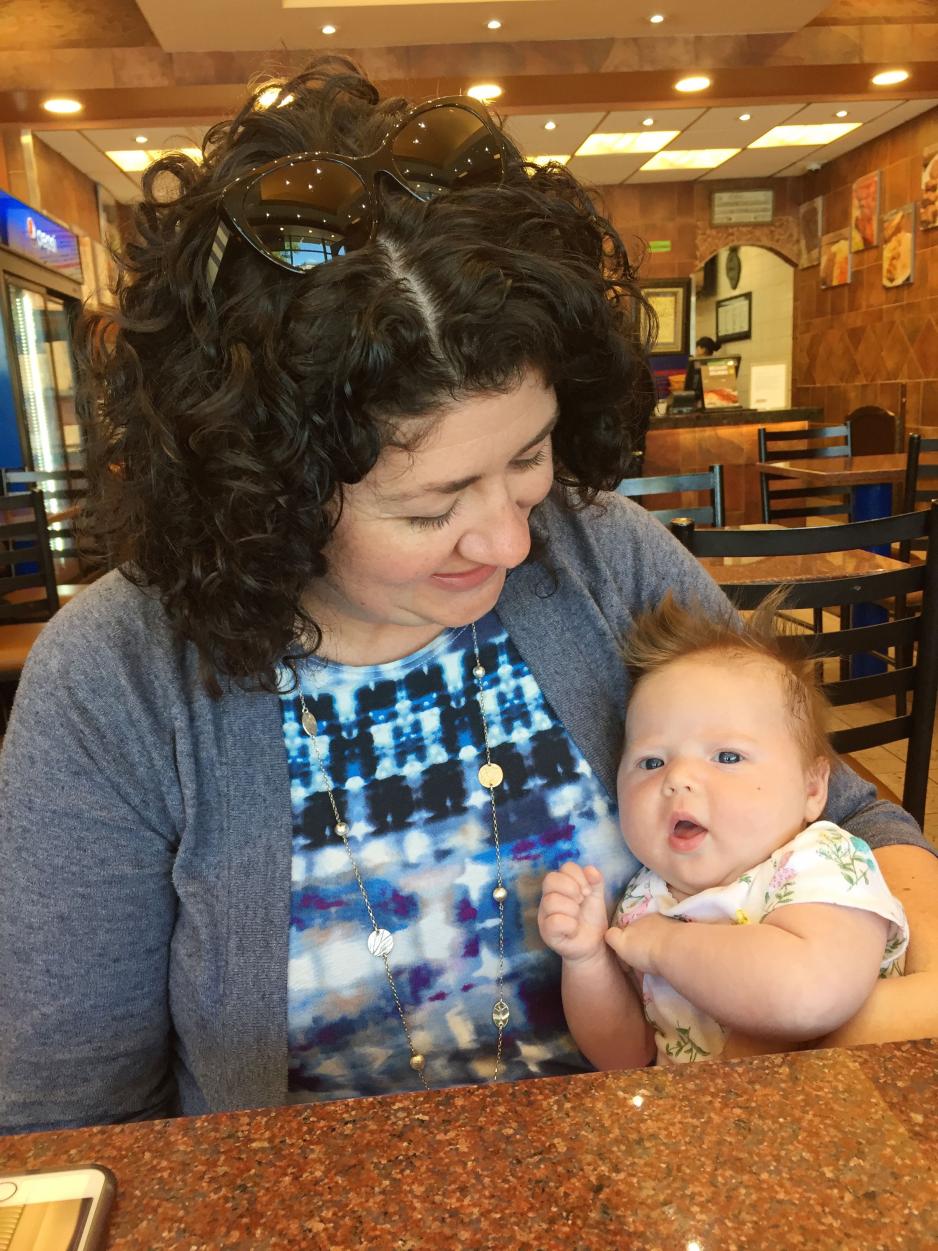 "We were trying to navigate how we would bring a new child into the world while dealing with the impending death of another child," says Michelle. "Christie, our midwife at the time was aware of what was going on. And she really worked with us to make sure we had a positive birthing experience despite what we were dealing with."
Christie Lockhart, who is also the Chief of the Department of Midwifery at MGH, was their midwife. She went above and beyond to make sure Michelle's family had the best care possible during this challenging time.
During Sam's birth, Christie arranged for an extra bed to be brought into the birthing suite so Stella could be there with her parents. Michelle says her family was able to surround the birth with the love and support they needed.
"Michelle and Aimee were able to have their birth in an environment that felt comfortable, supportive and safe. MGH was great in accommodating them during that time.  And the relationships we have here at the hospital made it possible to give them that individualized care," says Christie of the experience.
Christie has been a midwife at MGH since 2007. She started at the Midwives Clinic of East York as a student on placement and knew then she wanted to return to MGH as a midwife and work in the community she calls home.  She first experienced midwifery when her younger brother was born at home when she was 16.
After Michelle and Aimee's son Sam was born, Christie and her team of midwives continued to go above and beyond.
"Aimee had some temporary health issues after Sam was born," says Michelle. "When he was jaundice, Aimee was sick at home, so Christie came to our home and arranged for him to return to the hospital to receive additional medical care".   
This type of seamless care of both newborn and mother would not be possible without the strong relationship between midwife and hospital.
Michelle and Aimee went on to have two other children under Christie's care: a son, Hugo, in 2012 and a daughter, Adele, in 2017.
"Another benefit was the seamless continuity of care. Our midwife Christie always had everything ready for us and when she recommended other clinicians like an anesthesiologist to treat me for post-dural puncture after the birth of our daughter Adele, they already knew about my medical history."
"When we come to the birthing unit here, Christie is already there. Everything is already set up for you. That's what makes the relationship so vital," says Michelle. "The continuity of care was beautiful."
The Family Birthing Centre at Michael Garron Hospital provides extensive care for all stages of pregnancy, birth and child health. Every birth is a celebration, a normal, healthy process. Pregnancy and birth are unique for each individual. At MGH, we ensure that all expectant parents know that they have many options for their birth plans. Regardless of the birth plan you choose, the Family Birthing Centre at MGH ensures excellent personalized care for both parent and baby. The Family Birthing Centre team includes highly skilled obstetricians, midwives, family doctors, nurses, social workers, pharmacists, dieticians, certified childbirth educators and lactation consultants. MGH is also a Baby-Friendly Organization.
Michael Garron Hospital is part of the Toronto East Health Network, the hospital's extended network of community-based partnerships and services across 22 diverse neighbourhoods in East Toronto; the catchment spans from Midland Avenue in the east, to Bayview Avenue in the west, and north from Lake Ontario to Eglinton Avenue.