One act of hate, 416 acts of love: Community artivism surrounds hospital construction site
After a despicable act of racism took place on the site of Michael Garron Hospital's (MGH) construction project on June 10, East Toronto community members rallied together to show their intolerance for racism and unite against hate. 
Two days after the incident took place, one local family took action and made a homemade sign of solidarity and support. Once designed, Lindy, Art, Arthur (age eight), and Eleanor (age six) asked if they could post on the plywood construction fencing on Sammon Avenue. The hospital gladly obliged.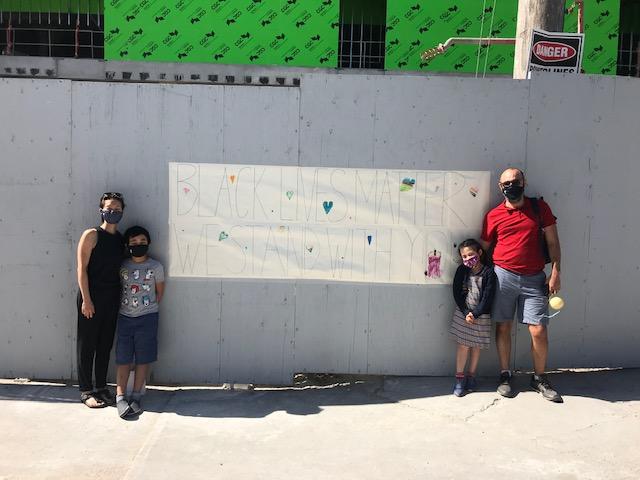 "Our school and our parents taught us about Black Lives Matter and we heard about the sad thing that happened at MGH so we wanted to help," says Eleanor. "I hope [the workers] feel good and I don't want anyone hurting their feelings anymore."
"No matter how young you are or wherever you are, you should always help out for an important cause," says Arthur.
This visual act of support sparked a larger community movement.
Over the June 27 weekend, as an act of community solidarity, many more homemade signs and banners were posted on the construction fencing to publicly inform the community, the hospital, the construction company, and those who live and work there, that racism will not be tolerated. 
Artivism, which connects art and activism, was harnessed to raise awareness and mobilize action.
The broader local effort was spearheaded by Zahra Dhanani. Zahra is the co-owner of Old's Cool General Store, which is dedicated to building inclusive communities, social justice and calling out hate. 
"I've been so heartened by the hospital's response. We all need to heal from this violent act of racism. Anyone who thinks it's okay to do this needs to know that we see you and we will not let this go unnoticed. The tide is turning on racism," said Zahra.    
MGH not only is supportive of this display but welcomes the bold messages.
"The community's artwork and banners have wrapped our construction site like a big, supportive hug. We encourage the movement of being united against hate and want to thank our community for this visible act of support" says Sarah Downey, President and CEO, Michael Garron Hospital.
The installation will remain on the construction fencing throughout the month of July.