The COVID-19 Assessment Centre provides screening, assessment and testing for individuals in East Toronto. Testing is available for the following populations:
Symptomatic testing:
All people with at least one symptom of COVID-19, even for mild symptoms. Please see full list of symptoms from the Ontario Ministry of Health listed 

here.
Asymptomatic, risk-based testing:
People who are concerned that they have been exposed to COVID-19. This includes people who are contacts of or may have been exposed to a confirmed or suspected case.

People who are at risk of exposure to COVID-19 through their employment, including essential workers (e.g., health care workers, grocery store employees, food processing plants).
Click here to see a list of all Toronto region COVID-19 Assessment Centres.
The COVID-19 Assessment Centre is open daily, from 8 a.m. to 8 p.m. Please call ahead to book an appointment at 416-469-6858. Walk-in appointments are available; however, booking an appointment in advance is strongly encouraged to avoid longer wait times.
Upon arrival to the Centre and following screening, patients will be assessed by a physician and/or nurse and tested for COVID-19 if the assessment indicates that it is required.
The test is similar to that of other respiratory illnesses and involves taking a sample from the nasal cavity with a swab. MGH's Infection Prevention and Control Team and Toronto Public Health will follow up with those who test positive for COVID-19. Access your COVID-19 test results online here. Please note that we are currently experiencing delays at the laboratory; it may take up to 7 days for results to be available.
You may be required to self-isolate if you are being tested due to a known exposure to a person with COVID-19 or have been sent in by TPH as part of an outbreak investigation. If the person does not meet the criteria above and is asymptomatic they can work and should follow public health messaging regarding social distancing and limiting exposures to others. For information about self-isolation,  please follow these public health guidelines.
Please note: If you are worried about possible exposure to a person with or under investigation for COVID-19, based on evidence and the incubation period of the virus, we suggest individuals get tested 4 to 8 days after potential exposure.
Additionally, it is important to remember that testing represents a snapshot in time. Therefore, it is critical that you continue to follow Public Health guidelines including: washing your hands, physically distancing by at least six feet from people you do not live with, wearing a mask, and avoiding shared surfaces.  
Accessing the COVID-19 Assessment Centre
The COVID-19 Assessment Centre cannot be accessed from inside of the Hospital. The entrance is located on the north side of the building off of Mortimer Avenue, west of the Emergency Department (see map below).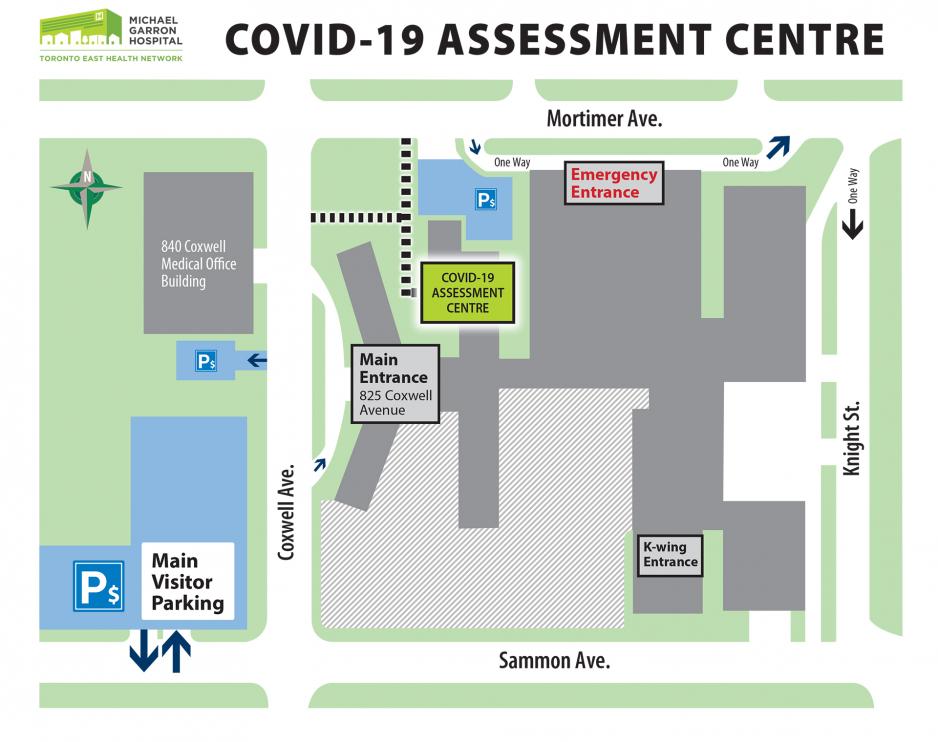 If you require urgent care, please visit an Emergency Department or call 911 and inform them of your travel and contact history and symptoms.
Education about COVID-19